This date is celebrated because that was the day in 1959 when the National Council of Technical Education (CONET) was created, which is currently the National Institute of Technological Education (INET).
Since 1995, the INET, belonging to the Ministry of Education of the Nation, is responsible for the coordination and application of public policies related to Technical and Professional Education at the Secondary Technical, Higher Technical and Vocational Training levels.
Last September 7 also marked 18 years since the enactment of Law 26,058 on Professional Technical Education (ETP).
From the INET, a discussion was held with the participation of the Minister of Education of the Nation, Jaime Perczyk, who highlighted that the Technical and Professional Education Law "allowed a 111% growth in student enrollment and the creation of new 136 institutions since 2006" and maintained that "this was possible due to the presence of the State." You can view this event by clicking here.
According to the figures provided by the Federal Registry of ETP Institutions (RFIETP) in May 2023, there are a total of 5,561 institutions entered, of which they are discriminated below:
3906 ETP INSTITUTIONS ACCORDING TO TYPE OF OFFER
1723 Technical Secondary
1374 Vocational Training
809 Higher Technician
1655 INSTITUTIONS OF OTHER LEVELS AND MODALITIES
Among the actions carried out by the INET, those carried out during the 2021-2023 Period stand out: the recovery of the National ETP Fund; the expansion of the offer of the ETP modality: Secondary Vocational Education and the creation of the National System of Evaluation, Certification and Comprehensive Accreditation of Vocational Technical Education (SINECAI).
Also, the reorganization and systematization of the Fiscal Credit and Mobile Workshop Classrooms program; generation of new profiles and frames of reference (National Directorate of Technical and Professional Education and CONETYP); development of a new INET Continuing Training area, through which the National Center for Technological Education (CENET), inaugurated in 1998, with laboratories of various industrial disciplines for training, which had operated until 2015, was valued; Expansion of student participation in public educational policy decision-making spaces.
At INET we continue to promote the continuous improvement of the quality of ETP, adapting the educational offer to productive and territorial needs. Always thinking about contributing to the construction of a model of an industrialized country in terms of the qualification and quantification of certificates and technical degrees. With the objective of expansion and growth.
Within the framework of the activities for Technical Education Day, the National ETP Olympiad is currently taking place at the INET, developed within the framework of what is established by CFE Resolution No. 427/22 that establishes the SINECAI. You can consult the characteristics, recipients, organization and evaluation modality here: view file.
Related video: 18 years after the sanction of Law No. 26,058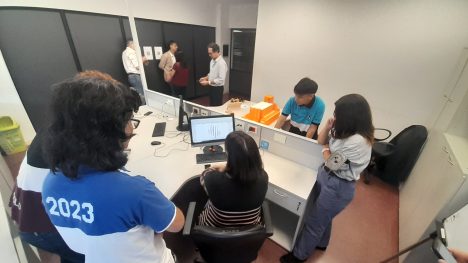 The post first appeared on www.inet.edu.ar