"site monitoring"parliamentary", who specializes in legislative and parliamentary affairs, in his report entitled "After its final approval…full details of the amendments to the Reconciliation Law," in which he reviewed 13 questions and answers about the law, after the approval of the House of Representatives during its plenary session today, Monday, headed by Counselor Dr. Hanafi Jabali finally approved a draft law submitted by the government issuing the law for reconciliation of some building violations and regularizing their status in 2023, which came in 14 articles.
The draft law aims to avoid the problems revealed by the practical application of Law No. (17) of 2019, amended by Law No. (1) of 2020 regarding reconciliation of some building violations and legalizing their status, in addition to facilitating procedures for citizens, which would stimulate progress. With requests to legalize the irregular conditions, while adhering to verifying the availability of structural safety, granting reconciliation for some violations for which reconciliation was prohibited according to some controls, setting a minimum and maximum value for reconciliation per meter, and allowing the reconciliation value to be paid in installments up to 5 years, including 3 years without Benefits, and granting a 25% discount in exchange for immediate payment, all in light of the political leadership's directives to open many thorny issues that concern the masses of citizens and provide radical and quick solutions to them.
The new draft reconciliation law 2023 also aims to solve the problems of the reconciliation law regarding building violations and new building requirements, to control the urban system and prevent random and illegal construction, which is expected to include a number of amendments that help facilitate reconciliation procedures and open the door to a larger number of violators. Among these amendments, reconciliation files for areas of 200 square meters will be reviewed by a union engineer, and a consulting office will follow up on anything more than that. Due to the lack of a sufficient number of state employees to review applications submitted by citizens.
In the following report, we shed light on the most prominent amendments to the new draft reconciliation law 2023, after its final approval, by answering a set of questions, the most prominent of which are: Cases in which reconciliation is permissible according to the new law? What are the cases in which reconciliation is not permissible and prohibited? Is it permissible to reconcile some actions for which reconciliation is prohibited? Are there facilities for citizens to submit an engineering report? What are the prices for reconciliation of building violations according to the new law? What is the status of requests for reconciliation and grievances that were submitted under Law No. 17 of 2019 and have not been decided upon, or the dates for their examination have not passed? Is it permissible to submit a new grievance to the grievance committees? What are the cases of refusal to reconcile? And other questions.
Here are the full details:
Full details of the amendments to the reconciliation law.. The price per meter starts from 50 pounds to 2500 pounds.. and the payment of fees is on the owner, not the tenant.. Accepting the reconciliation is a decision that produces all its effects.. and a "consultant" is not required for the engineering drawing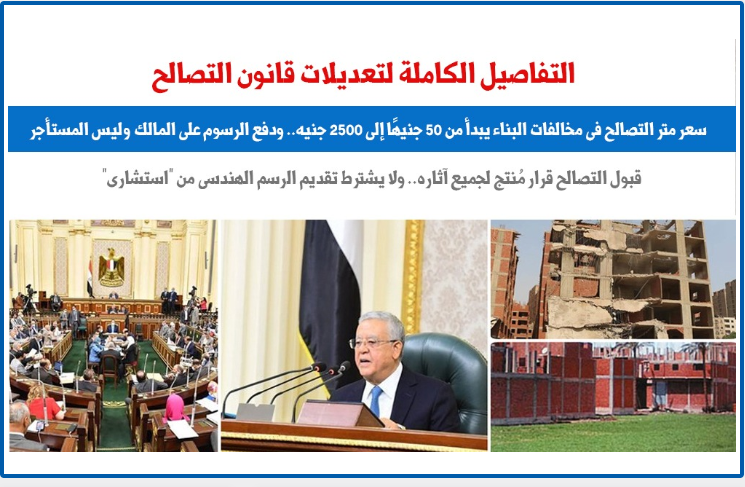 parliamentary

The post first appeared on www.youm7.com