Roberto Mancini, coach of the Saudi national team, announced the official formation against Pakistan in the match that will be held at 6:30 pm today, Thursday, at Al-Fateh Club Stadium in Al-Ahsa, in the joint qualifiers for the 2026 World Cup.
The formation of the Saudi national team was as follows:
Goalkeeper: Muhammad Al-Mayouf.
Defense line: Hassan Timbukti – Aoun Al-Salouli – Ali Al-Bulaihi.
Midfield: Saud Abdul Hamid – Faisal Al-Ghamdi – Mukhtar Ali – Abbas Al-Hassan – Moaz Faqihi.
Offensive line: Saleh Al-Shehri – Mohamed Maran.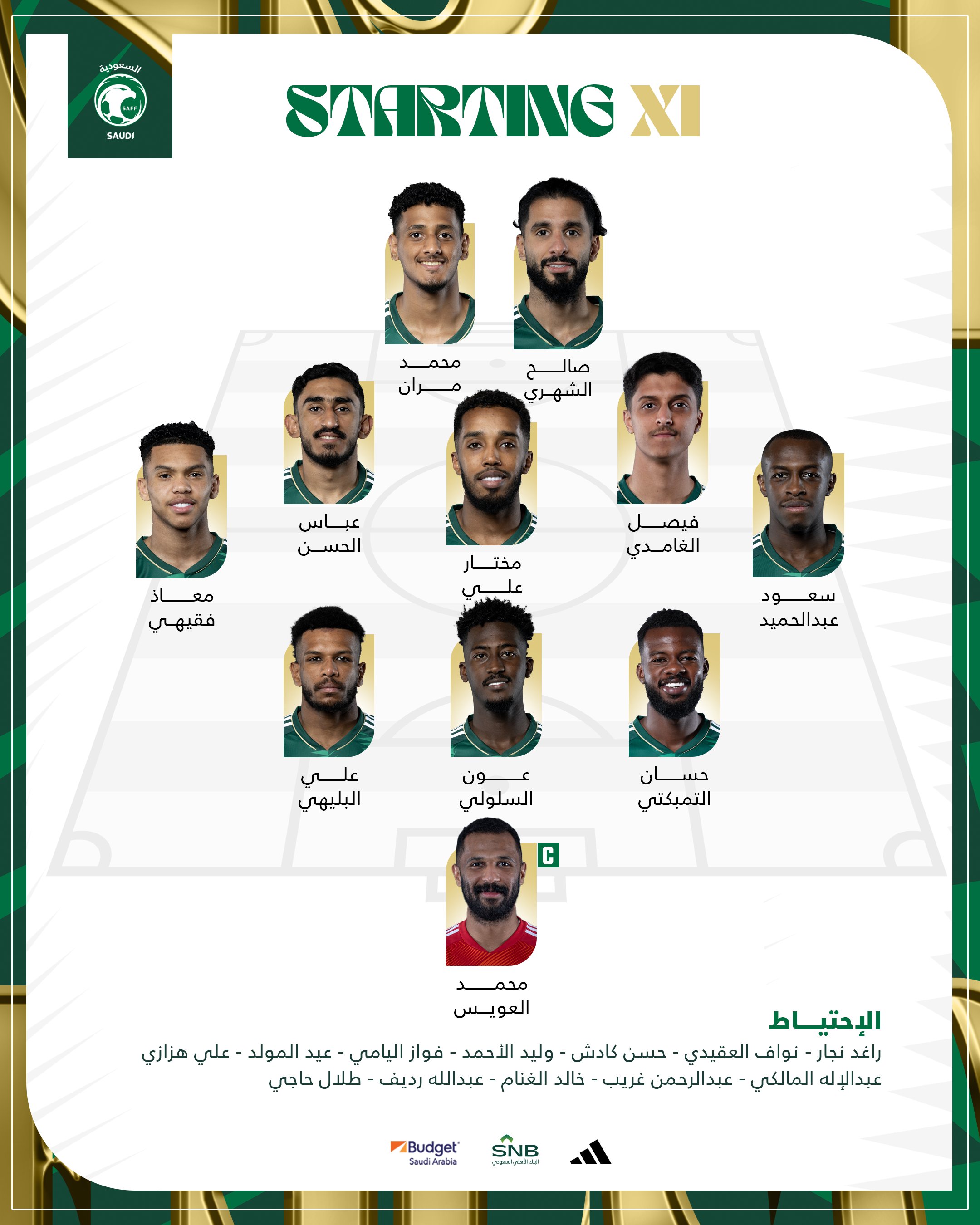 Formation of Saudi Arabia
Saudi Arabia against Pakistan
The draw placed the Saudi team in the seventh group, along with the "Jordan, Pakistan and Tajikistan" teams, and its second match in this international break will be against Jordan on November 21..
Italian coach Roberto Mancini, the technical director of the Saudi national team, excluded Al-Akhdar star Salem Al-Dosari, a Al-Hilal club player, from the first team's list based on the medical report submitted by the team's medical staff, stating that the player was unable to participate in the next two matches against Pakistan and Jordan.
Salem Al-Dosari will be absent after press reports confirmed that his absence from the stadiums will extend from two to three weeks, as a result of his exposure to two injuries, the first a second-degree tear in his ankle, and the second a first-degree tear in his knee..
Facing Pakistan and then Jordan is considered an ideal preparation for the Saudi national team before competing in the Asian Nations Cup finals in Qatar in January 2024..
And he didn't win Saudi national team In any match since Roberto Mancini took charge, the Greens have not achieved a win in any friendly match they have played over the past months.
Al-Akhdar played in 12 World Cup qualifiers and succeeded in snatching the qualification ticket in half of them, six times, and is considered one of the Asian teams that crossed the most to the World Cup..
The confrontation with Pakistan is considered the thirteenth confrontation for the Saudi national team, which it is playing in the historic opening of its journey through the World Cup qualifiers. The Saudi "Green" team won ten of its 12 opening matches, which represents the number of copies of the qualifiers it has played throughout its history, and tied twice without suffering any loss..
The Saudi national team is trying to repeat its historical superiority in the first appearance of the World Cup qualifiers, when it meets Pakistan, especially since the technical differences seem to be in favor of Al-Akhdar, who is one of the most prominent candidates to qualify for the next World Cup, and not just his group in the second round stage..
The post first appeared on www.youm7.com