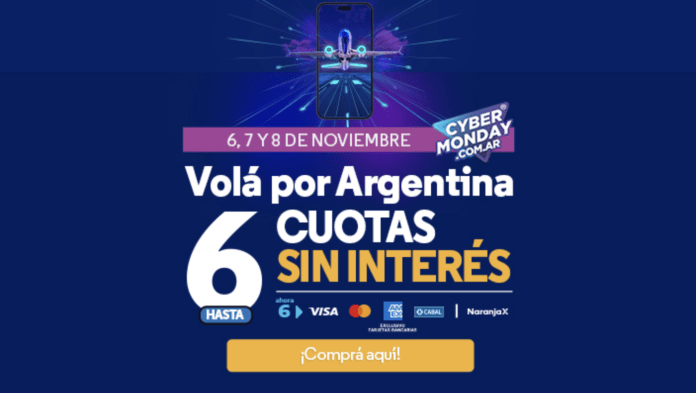 Advertising
CYBER MONDAY 2023
ASSIST365 has a 55% discount on all its traveler assistance plans plus 3 interest-free installments
AND ADDING THE SIRCHANDLER CODE AN EXTRA 5%!!
BOOKINGCARS.COM YOU HAVE A 15% DISCOUNT ON ALL PREPAID CAR RENTALS AND ADDING THE SIRCHANDLER CODE 5% LESS, ARGENTINA, UNITED STATES, EUROPE AND ALL DESTINATIONS
Everything is paid in PESOS with taxes already included
ADVANCE EXPENSES AND STAY THE OFFICIAL DOLLAR NOW
Aerolíneas Argentinas once again put the quotas without interest in a sales event such as Cyber ​​Monday, something similar to what was done in the last Black Friday or Hot Sale campaign or whatever name was mentioned.
Interest-free installments a few years ago were something classic, but with inflation they flew, that's why "the offer" is to have the installments, although it is limited to March (minus Easter), April, May and June.
CyberMonday has arrived!

We offer you the best promotions for you to travel through Argentina and discover the charms of our country.

Starting today and until Wednesday, November 8, you can buy your ticket in up to 6 interest-free installments with all Visa, MasterCard, American Express and Cabal bank cards; and in 6 interest-free installments with Naranja

Advertising

Do not miss this opportunity! Get ready for your next adventure!
This can be seen here https://www.aerolineas.com.ar/cybermonday
These are the terms and conditions of the promo
INSTALLMENTS NOW: This promotion applies in the Argentine Republic from 11/06/2023 to 11/08/2023 inclusive, paying the entire purchase in 3 or 6 installments for tickets with travel dates between 03/01/2024 and 03/21/2024 inclusive and between 04/05/2024 and 06/30/2024 inclusive to national destinations under the 'Now 12' program. Valid only on Aerolíneas Argentinas flights. Marketing channels: purchases at Aerolíneas Argentinas branches, online through the website www.aerolineas.com, telephone sales at 0810-222-VOLAR (86527) and authorized BSP agencies. Visa, Mastercard, American Express and Cabal credit card issues issued by banks in Argentina. Check with your issuing bank if the card is enabled to operate in installments. Not combinable with other promotions. Check with your issuing bank for other charges associated with installment transactions. Total financial cost (CFT) 0.00%. NARANJAX: Exclusive promotion for cards issued by NaranjaX in 6 zero-interest installments. Orange Visa, Orange Mastercard and Orange American Express cards are excluded. Valid from 11/06/2023 to 11/08/2023. This promotion is valid for the purchase of domestic air tickets on flights operated by Aerolíneas Argentinas. Plan 6 zero interest installments: Total financial cost (CFT) 0%. Annual nominal rate (TNA) 0%. Annual effective rate (TEA) 0%. CABAL: Promotion valid from 11/06/2023 to 11/08/2023, both days inclusive. Promotion valid for users of Cabal, Fraterna, former Kadicard credit cards, except Agrocabal and Cabal Mayorista. CFT: consult your issuing entity. Valid for the purchase of air tickets to destinations within Argentina for any date and rate in 3 and 6 interest-free installments.

TOTAL FINANCIAL COST (CFT):

CFT 0,00%
I want to remember that the Orange Card continues with its 6 interest-free installments on Aerolíneas Argentinas national tickets… all year round, even though they say here that they are part of the promo itself. That was the reason why I took it out a few months ago to buy tickets for the summer. But now they have to put it within this promo, although if you see the Naranja website it does not have those restrictions.
Advertising
LOOK AT THE SECTION TRAVEL DISCOUNTS FROM THE BLOG, WITH CAR RENTALS, TRAVEL ASSISTANCE, CHIPS OR ESIM FOR YOUR CELL PHONE, TOURS THROUGH EUROPE, ASIA AND AFRICA OR EVERYTHING YOU NEED FOR DISNEY AND ORLANDO IN THIS SECTION https://www.sirchandler.com.ar/descuentos/
The post first appeared on www.sirchandler.com.ar